Xado Restoring Grease
XADO Restoring Grease is designed to restore any mechanism that operates under heavy loads. XADO Restoring Grease forms a new cermet layer on the friction surfaces: the parts grow in volume and restore their original geometry. XADO Restoring Grease considerably extends the life span of the mechanical parts.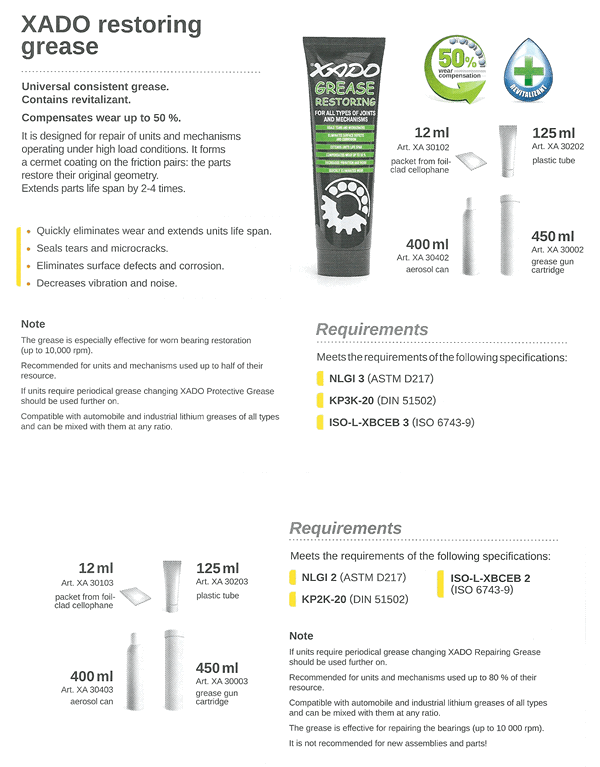 Technical characteristics
The patented formula of this modern restoring grease is based on a composition of XADO revitalizant and EP complex (Extreme Pressure).
Practical experience:
Xado Restoring Grease was used to restore the gears of the Dnepropetrovsky tube-rolling mill "Ural-2M", which was built over 30 years ago.
Gear problems had been reported and upon investigation it was found that the main production drive gear had worn by approximately 30% and the gear surface was covered with scratches and bubbles 4 mm deep. The wear continued until eventually the unit needed urgent repair, but the parts were no longer available.
XADO revitalization was the only possible way to solve the problem. The gear was treated with XADO Restoring Grease and operated as normal.
After 526 hours of operation the gear was inspected. It was found that the small scratches and bubbles on the gear surface had disappeared and the wear had stopped! The measurements showed that a cermet layer - 400-600 mkm thick (more than half a millimeter) - had formed on the surfaces of the gears.
The electricity consumption had also reduced by 26,6% at idling and by 12,5% under loads.

Method of application:
Remove the old grease. Fill 1/2 of unit volume with XADO Restoring Grease.

Note:
XADO Restoring Grease is especially effective for the restoration and protection of worn bearings (up to 10,000 rpm). If the bearing assembly requires a periodical grease change you should use XADO Grease Protecting later on.

Colour: green
Thickener/Base Oil: Li-soap/Mineral Oil
Penetration: 220-250
Category temperature range °C: -40...+120