Xado Atomic Oils and Lubricants
This page provides detailed information on the wide range of XADO Atomic Engine Oils. These include Mineral oils, semi synthetic oils, and fully synthetic oils for your every day family car to commercial trucks and buses as well as generators and equipment operating in the warmth of the desert to the icy conditions of the Arctic.
In addition to engine oil, Xado manufactures a wide range of lubricants and engine treatments for all types of engines and machinery and includes oil additives, greases, fuel treatments, transmission fluids well as anti freezes.

XADO Atomic engine oil exceed the high requirements of the American (API CI-4), European (ACEA) and international (Global) lubricants standards, and also the specifications stipulated by the leading auto manufacturers (Volvo, MB, MAN, Renault and GM).
Xado Atomic Engine Oil & Lubricants - Restores, repairs, reconditions
XADO Atomic engine oil and lubricants contain a world wide patented technology, which restores, repairs and reconditions worn mechanical moving parts, any engine, machinery and equipment, without the need for expensive dismantling. In engines this will reduce fuel consumption, increase compression and reduce exhaust emissions.

XADO Atomic Engine Oils and lubricants will ensure that that economy, power, reliability of the engine will be always kept in top condition.
A form of NANO Technology
The patented formula in all the XADO Atomic Engine Oils and lubricants is a form of 'NANO Technology', which operates at the atomic level, which uses the mechanical friction generated by engines or machinery and the microscopic metal particles that become present in your lubricants, and atomically re bonds these particles back into to the main metallic structure, thereby rebuilding and returning the surface structure to its original state.
A strong CERMET surface - extremely hard and very smooth
XADO engine oil and lubricants formula creates a ceramic and metal surface, CERMET (ceramic / metal) that is harder and smoother than the original metal structure. CERMET also has a Rockwell rating of 320 (metal = 90; diamond = 420). It is not a separate layer but an integral part of the metal structure.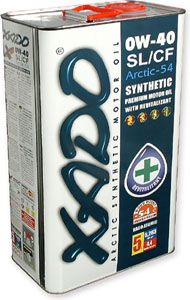 Under operating conditions the CERMET surface produces far less heat and friction and which allows mechanical machinery, equipment and engines to run more efficiently, thereby:

* increasing mechanical efficiency and engine compression,
* reducing friction, fuel consumption, noise, vibration and emissions.
* Extending the operating life of all mechanical machinery or engine.

XADO Atomic Engine Oils and lubricants are therefore an ideal choice for all engines, machinery and equipment and an ideal alternative to the normally intrusive mechanical repairs. Xado Atomic engine oils and lubricants restores, repairs and recondition engines, machinery and equipment across a wide range of industrial applications from the Automobile industry to the Railways, Weapons to Aircraft, Agricultural machinery to Household appliances, boats and Lawn mowers. The list is endless.